Overview
Manufactured Gas Plant (MGP) Overview
There are approximately 3,000 former MGPs nationwide and about 80 in New Jersey. NJNG currently has responsibility for remediating five former MGP sites in Aberdeen, Atlantic Highlands, Freehold, Long Branch and Toms River. All work is completed in accordance with applicable NJDEP regulations and performed under the direction of a New Jersey Licensed Site Remediation Professional (LSRP). In addition, the safety of the residents and surrounding communities where we are performing remedial work is a primary consideration.  We strive to maintain an open line of communication with municipalities and community groups where we work and address all questions and concerns a timely manner. 
Brief History of MGPs

The Era of MGPs
Manufactured gas was introduced in the early 1830s and was considered a step forward in modernizing the nation by providing a constant source of energy for cooking, lighting and hot water. Prior to the widespread use of electricity, manufactured gas provided energy for street lighting and industrial processes, which were important to cities.
The MGP Process
The manufacturing process at the time of MGPs was considered "State of the Art," and it heated coal, coke (a coal product), and water in the absence of oxygen to produce a raw gas that contained moisture and coal particulates. The raw gas was sent through a cleansing process before it was pumped into storage tanks; however, it still contained significant amounts of coal particulates and moisture. Over time, these impurities would drop out of the gas and accumulate at the bottom of the storage tanks. This material is known as coal tar.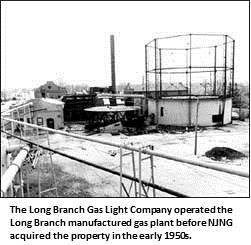 Coal tar is black with an adhesive-like or "sticky" texture and looks like and has an odor similar to roofing tar. In fact, coal tar had its own market for uses such as road paving, roofing materials and coating for bulkheads and docks. Coal tar is still used today in a wide variety of consumer products.
MGP Industry Slows as Interstate Pipelines Are Introduced
In the years between the end of WWI and the beginning of World War II (WWII), high-pressure pipes and pumping systems led to the construction of interstate natural gas pipelines that made natural gas available throughout most of the United States. Natural gas was first introduced to NJNG's service territory in the early 1950s. 
Access to abundant supplies of natural gas put the MGP industry at a competitive disadvantage and only a few MGPs continued in operation into the second half of the 20th century. The last plants in the United States to supply residential consumers with coal gas ceased operations by the mid-1960s. NJNG's last working plant stopped manufacturing gas in the mid-1950s. By the 1970's, NJNG removed the majority of aboveground structures at the Atlantic Highlands, Long Branch and Toms River sites. The final holder at the Atlantic Highlands site was taken down in 1981.