Kids and Conservation
We believe educating young children about energy conservation will help them make informed energy choices throughout their lives – saving energy now and helping preserve our natural resources for years to come. Kids and Conservation offers ways to get students thinking about protecting the environment with valuable information and resources that can open your child's mind to the idea of energy efficiency. 
NJNG is proud to sponsor the Energy Hog, a nationwide energy-efficiency campaign launched by the Alliance to Save Energy (ASE) and the Ad Council. The children's section of the ASE Web site offers fun, interactive games and contests designed to help children understand the importance of saving energy. Adults can check out the energy facts, checklists and online home energy audit to help save energy and money, as well as enhance the comfort in their home. In addition, parents and teachers have access to resources and activities to help encourage children to explore the world of energy and learn about energy conservation.
Teachers can use the following guides to incorporate energy efficiency into their classroom curriculum guides.
Families can use the Energy Hog Scavenger Hunt to find where the Energy Hog may be lurking in their home. Visit our Energy for Education tab to learn how you can bring a free Energy Hog assembly to your school or group.

**The Energy Hog campaign is a program of the Alliance to Save Energy and the Ad Council. It is sponsored by the U.S. Department of Energy, The Home Depot, the North American Insulation Manufacturers Association, numerous state energy offices and New Jersey Natural Gas to advance home energy efficiency.
ENERGY STAR Kids
The ENERGY STAR® label helps consumers to make wise choices about the products they buy. Now, with games, fun facts and animated characters, the ENERGY STAR Kids website is engaging children about energy efficiency at an early age.
Kids Saving Energy
Brought to you by the U.S. Department of Energy's Office of Energy Efficiency and Renewable Energy (EERE), this website teaches children about renewable and alternative energy sources as well as how to save energy at home and at school. Visit the EERE site for interactive games, quizzes and projects for children and students.
Your Natural Gas Activity Book
Characters Nat and Gus teach kids natural gas safety through critical-thinking activities, math puzzles, geography and word games. Grades 3-6
Natural Gas: Your Invisible Friend
Children explore where natural gas comes from, how it's used and why it's important to be careful when using it. Full-color pictures depict kids in real-life situations. Fun-filled puzzles, lessons and games meet National Science Education Standards. Packet includes content for natural gas leaks and hazard recognition, response and prevention. Grades 3-6
It Smells Bad for a Good Reason
Our natural gas leak safety brochure provides tips and information on what to do when a leak is detected. Also included is a scratch and sniff picture letting you find out what a natural gas leak smells like. This pamphlet is written in both English and Spanish. 
Hands-On Activities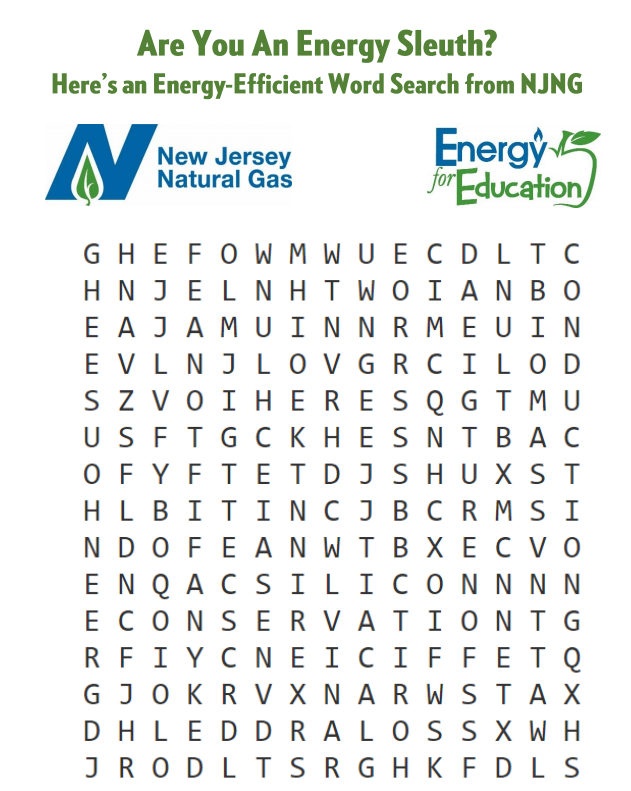 Energy for Education Word Search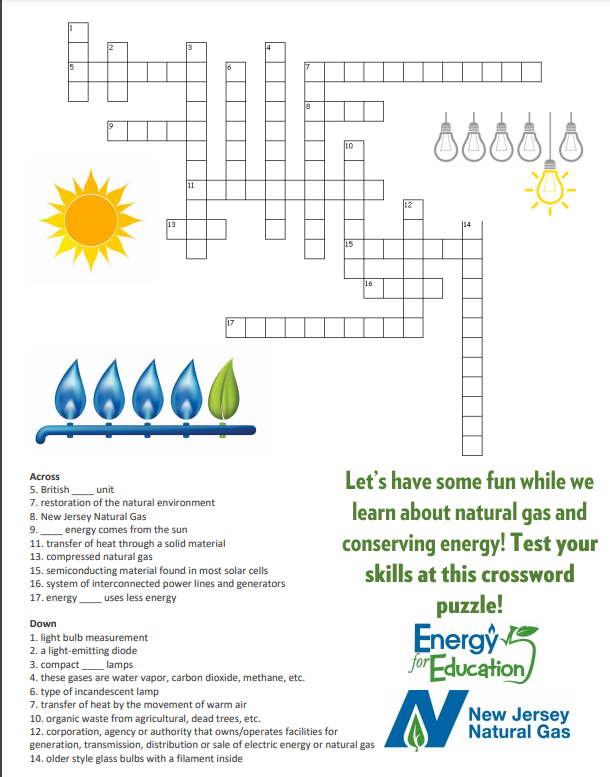 Energy for Education Crossword Puzzle
These FREE resources are available for parents, students and teachers upon request
. *Supplies are limited. 
For additional
Energy for Education
resources call 
732-938-1035
 or email
speakers@njng.com
.